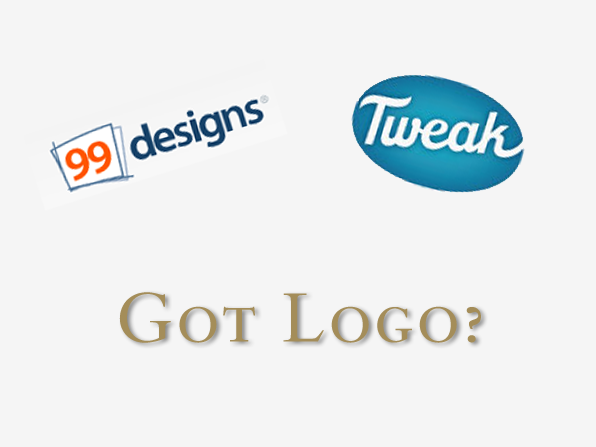 Ok.  So you just launched your iconic business website with IconoSites.  Now you want to add a professional business logo to make your new business website look that much better.  I'm here to tell you that finding a logo design service is easier and cheaper to do than you might have thought.  You don't need to search out a graphic designer, and you don't need to worry about paying hundreds of dollars.  I'm going to show you a few options you have right now to get a logo free, cheap, and one that you can obtain in minutes or hours.

1. Tweak
Tweak is an awesome solution if you want a logo but have little to no budget.  You just pick from one of their hundreds of predesigned company logo templates broken into categories (i.e. financial, photography, technology, etc.).   Then, using their extremely easy to use software, you just add in your own company name text and slogan text.  You get to preview it on the spot to see if you like it.  Then, you get to select your colors.  Lastly, you are provided with three options:
Download it now FREE – here you can download the logo free in a lower resolution format.  This format will work perfectly on your IconoSites small business website.  The only downside is that your logo will have a white background.  If your website doesn't have a white background, you will need to edit this.  This can be easily done using Pixlr, a free online image editing software.  Pixlr is very similar to Adobe Photoshop in terms of functionality, but – it's online, and it's free.
Download a high res jpeg – here you can pay $9.95 and get your logo in both a color and black version.      The logo still comes with a white background.  I don't suggest this option because you're not in a much better position than you are with the free version.
Download an EPS logo – here you can pay $29.95 and get a logo file that any designer can use and customize it in any way you wish.  This is a great option if you want to make a couple of minor adjustments to your logo.  Also, since this is a vector image (high resolution), you can use this logo for all of your marketing  material, business cards, etc. and it will print beautifully.  It comes with a transparent background, giving you the ability to put your company logo design on any website background, regardless of the color of the website's background.
2. 99Designs.com Logo Store
99Designs Logo Store is a step up from Tweak and you should consider it if you've got a few more bucks to spend and need something a little higher class.  The cheapest option is to go to their logo store and peruse over 13,000 logos, all of which are contributed from professional graphic designers all over the world.  Basically these designers have designed beautiful logo templates and have uploaded them to the 99Designs Logo Store, hoping that business owners will find one that resonates with them.  If you like one of the logos, you can buy it on the spot and have the graphic designer customize it exactly how you want it (within reason…I mean you cant ask him to change the design completely) for no extra charge.  Then, the designer makes the changes and emails you back for your approval.  You continue this process until you are satisfied.  Once you approve your logo, you release the funds to the designer, you get to download your logo files, and the transaction is complete.  If you are not satisfied, 99Designs has a money-back guarantee.
Adding a custom logo is a quick, cheap, and easy thing you can do to raise the level of professionalism when you setup a business website with our business website builder.   If you have any questions, thoughts, or any other options to recommend in regards to getting a business logo design, let us know in the comments below.