A Picture is Worth a Thousand Words (or, Customers)
Never underestimate the significant role that good photographs have in enhancing the quality of your website. Images create an emotional connection and response, and this is why it is said that "a picture is worth a thousand words". The right images can immediately attract or repel potential customers before they've even read a word of your text.

For this reason, we strongly believe that good stock photos are a highly worthwhile purchase to make if you can afford it (they only cost a couple dollars each). But if you can't afford it, don't worry, there's some great free options too.
To download royalty-free stock photography, we recommend MorgueFile, Stockvault.net or FreePixels.com.
To purchase top quality stock photography, we recommend istockphoto, fotolia, or Shutterstock.
How to Edit/Replace the Large Banner Images in IconoSites

1. Login to Your Account - and then go to the WEB PAGES section. Click EDIT on any page.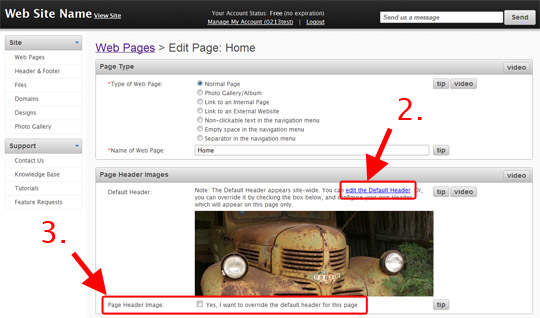 2. Edit the Default Header - The Default Header appears site wide. You can edit it here, but you can also deactivate it (see step 3) and replace it with something else. Edit Your Default Header Now.
3. Make a Page-Specific Image Header - Here, you can deactivate the Default Header (which is site wide) and add your own Header that will only appear on this page. Make Your Own Header Now.

4. Add an Image, Make an Image Transitioner, or Add a Flash File - Once you've checked the box to override the Default Header, you'll have access to all these customization options. You can also just remove the Page Header Image for this specific page altogether.
5. Need Help? - Make use of the TIP and VIDEO buttons for every feature in IconoSites, to see a quick tutorial. Watch Tutorial Videos in Your Control Panel.