Create Web Pages that Attract Customers. Here's How.
Home Page: State a Clear Unique Value Proposition ("UVP")
You need to state the one or two main reasons that you are uniquely positioned to solve your customers problem. This is not a list of features (that can go on another page when your website visitor is ready to dig deeper). It's also not a long drawn out explanation of how your company came to be and how great you are. If you want to attract customers, you MUST immediately grab your visitor's attention. Your unique value proposition is designed to do just that. In addition to your UVP, just provide highlights about who you are and what you do.

Main Navigation Pages: Support Your UVP
Your visitors have heard what you said in your UVP, and now they want more information to see if you can really solve their problem. Your goal is to give them all the information they need to make a decision and become a customer. Therefore, make sure that your pages are ordered in terms of importance starting from the left. Lead your visitor down the ideal path of web pages that you believe will lead them to becoming a customer.
Make it Extremely Easy to Contact You
We've all been to websites where you have to search for a phone number or way to contact the company. Don't make this mistake. Put a "Contact Us" page in your main navigation (it should be the very last page on the right). List a phone number and/or email address in the header or footer of your website. Why is this so important? Because rarely do your visitors have all the answers they need to start handing you their money. They will almost always have questions. They also need to know that they can count on you after the sale. So make it easy to contact you, and you'll attract a lot more customers.
Overall Rule of Thumb: Be Concise. We mean really concise.
By this we mean: Less text, less clicks. This means you should strive to eliminate any unecessary pages and text as much as possible.
For example, if you have several pages that only contain a paragraph of text, consider combining them onto one page. Or, if there's some particularly important information you want your potential customers to see, don't make them click around too much to find it. Instead, make it obvious.
If your potential customers have to work too hard to take the next step with your company (i.e. make an inquiry), most of them probably won't. So keep it as concise and simple as possible.
A Tip on How to Determine Your Web Page Structure
We've already started you out with a couple of example web pages, but now's the time to determine what you really need for your own business. To do this, we recommend sketching out a "Site Map", which illustrates your navigational structure like a family tree:
How to Create & Edit Your Web Pages in IconoSites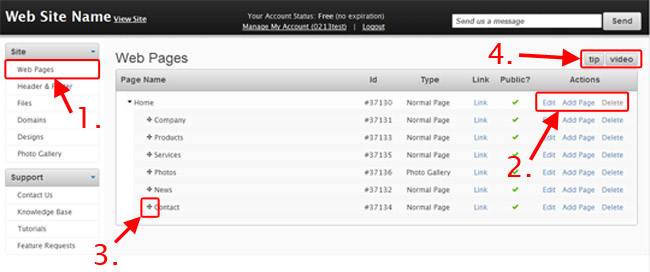 1. Login to Your Account - and then go to the WEB PAGES section.
2. Add, Edit or Delete Pages - You can do all of these 3 actions right here. Start Editing Your Pages Now.
3. Change the Position of Your Pages - Click on the icon, and just drag and drop the page or section of pages to the position you would like it. Then, SAVE your page.Start Changing the Position of Your Pages.
4. Need Help? - Make use of the VIDEO buttons for every feature in IconoSites, to see a quick tutorial. Watch Tutorial Videos in Your Control Panel.