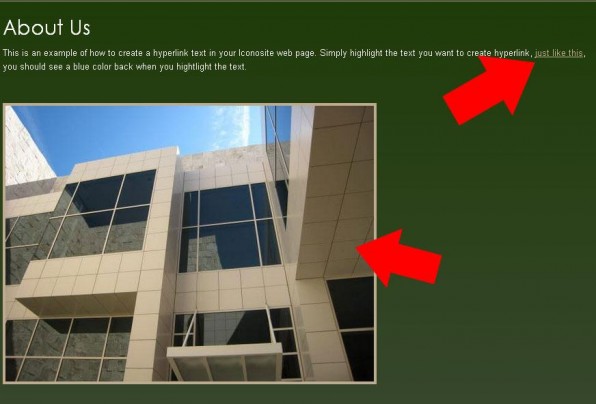 In this tutorial, we'll show you how to build a website with hyperlinked text & images.  We will do this using the IconoSites website builder.

1. Login to your Iconosites free website builder account.
2. Go to your website's content page editor. Please see screenshot below.
3. To hyperlink a text, please highlight or select a text that you want to create the hyperlink. You should see a blue color background when highlighting a text. To highlight a text, simply left click and hold mouse from the beginning towards the end of the text. Please see screenshot below.
4. Once you've highlighted the text, click the Hyperlink chain like icon found in your content editor tool. Please see screenshot.

5. Next is to type the URL address or website to link the text then set the target option. In this example, the target will open a new window when the Hyperlink text is click. You can experiment on both options and see how it works. After you set them, click the INSERT button to finish. Please see screenshot below.
6. Now that you've learn how to hyperlink a text, next you'll learn how to hyperlink an image. Go ahead and choose an image and click on it. Please see screenshot below.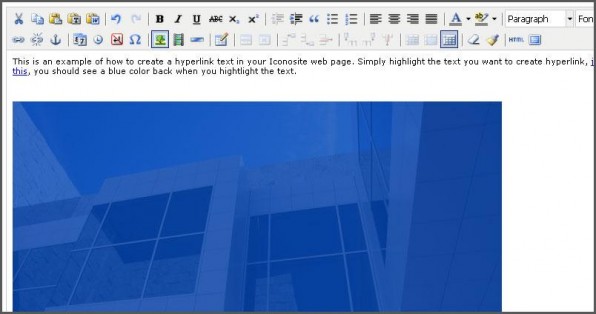 7. Next click the Hyperlink chain like icon as you can see in the screenshot below.
8. Next specific the URL address of the website to link your image. Also specify the target window which in this example is to open up a new window. Click INSERT button when you're done.
9. Save your work and you're done.
10. Checkout your website and you should see clickable text and image. Try them out.