In this tutorial, we will show you how to add your website to search engines like Google and Bing.(Note: when you submit to Bing, you are automatically submitted to Yahoo!.  Bing supplies Yahoo!'s search results.).  Once you complete these steps, the search engines will send their spiders to "crawl" your website, so that your site can be found on search engine queries.

1.  To start, visit one of these links:

2.  Then click Add your URL text. Please see screenshot below.

3.  Next is to provide the Iconosite website URL, Captcha letters, then click Submit Request. Please see example screenshot below: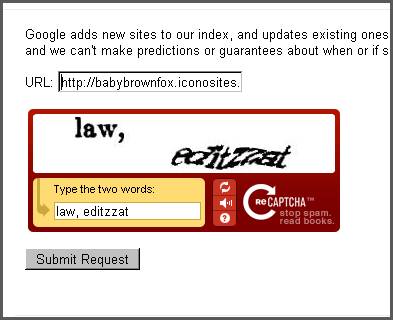 4.  Once you've click Submit Request, you'll see a response as depicted in the image below.

How to Submit Your Website on Bing Search Engines
1.  Go to this link https://ssl.bing.com/webmaster/SubmitSitePage.aspx
2.  Type your Iconosite website URL in the textbox and copy the Captcha letters. Please see example screenshot below.

3.  Lastly, click Submit URL button. You should see the image below after submitting. That's it you're done.

How to Make a Website in Minutes, Free!
Like what you see?